This month, CTT Accountancy turns one, and we proudly celebrate our first anniversary of being in business. As we mark this important milestone, we wanted to reflect on what an incredible year we've had.
Trying to establish and grow an accountancy firm amid a pandemic could have at times felt an intimidating and labyrinthine task. Still, our team have remained committed to building strong, personal relationships with each of our clients. We've made it our mission to ensure that our clients feel they can rely on us to act in their best interest, and trust us to deliver a high standard of support and work. It's an ethos we believe we can attribute to this years' various successes.
CTT Accountancy has over doubled in size during the last 12 months. And with our current client base comprising more than 100 Limited Company, 150 individual and 130 Trust clients, we must be doing something right! We have confidence that our offerings and personal service are exceptional.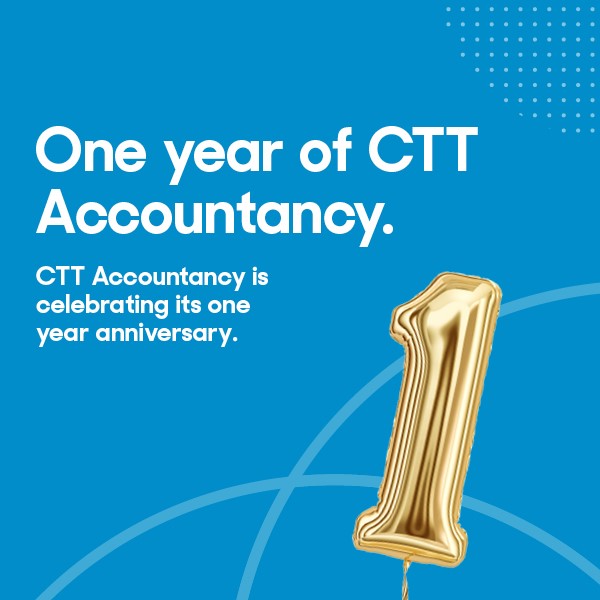 Since we opened the doors in January 2021, we've also increased our team by over 50%, with three talented new members. Meet them here.
As we plan for the next 12 months and beyond. We aim for continued growth across our client base and team. Talent and cultural fit are essential when selecting our staff. We aim to create a positive and happy workplace, investing heavily in our trainees to ensure we've got the perfect solution in-house for all our clients' needs.
CTT Accountancy works with clients to fulfil a comprehensive range of accounting needs, from book-keeping and payroll, to tax compliance services such as self-assessment, property returns and more. We can also deal with Trust and Estate tax returns and registrations thanks to our links with Tax & Trust experts in the wider CTT group.
You can find a complete list of our services here: Business Accounting Services UK – CTT Accountancy (ctt-group.co.uk)
Get in touch with CTT Accountancy to discuss how we can work together.