Did you know the Land Registry has changed its fees for the first time in 12 years?
From 31st January 2022, the Land Registry's application fees have increased. HM Land Registry (HMLR) is the government organisation dedicated to recording property and land ownership in England and Wales. Once it's been registered, they issue a land title to prove ownership and establish the property's boundaries.
If you've had experience applying to HMLR, you'll likely know how slow the process can be! In a bid to bring Land Registry up to speed, this year's budget announced that spending will increase over the next three years almost by 20% to £383.7m in 2024-25.
As HMLR is funded by their charges, the go-ahead for more spending means an increase in fees. However, the additional revenue generated will help the Land Registry accelerate its digital programme. Including further developing its digital registration service introduced towards the end of last year. The Land Registry hopes that this will aid their customer service.
A spokesperson from the HMLR told The Law Society Gazette, 'Our spending review settlement allows us to move forward with our plans to deliver what our customers tell us they need, more consistency and speed in our service delivery.'
So, what are the fee increases?
The rise in cost applies to both applications submitted electronically and by post. Applications submitted electronically have seen a fee increase of 11% across the board whereas applications submitted via post have increased by 21%.
Whilst the percentage increases seem high, the actual monetary increase is nominal for the most part. For example, a transfer of whole for a registered property between £100,000 and £500,000 will only see a maximum of a £5 increase.
For a breakdown of the fee increases, please see below: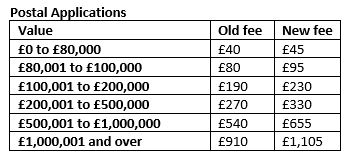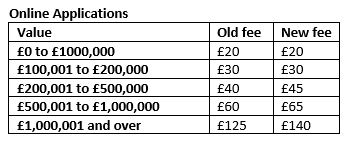 NB The above only shows the increases for transfers of whole for both unregistered and registered properties. For a full breakdown of all of the increases, please click here.
At face value, you might see an increase in fees as an additional cost to business. But there are benefits which come hand in hand with this increase. For example, there would be no objection to a quicker and more efficient application process. Of course, whether this will translate into practice is yet to be seen!
As a member of CTT Group you will not need to worry about the increased Land Registry fees as these are included within our conveyancing costs for registered properties. Find out more about becoming a member here.